Why repair your home appliances with Norwest Appliance Services?
If you want your appliances fixed right the first time, Norwest Appliance Services are your go-to. Appliances are an investment, so when they start to show signs of wear and tear you should invest in the best repair company to repair them for you. With over 30 years of experience repairs in appliances in Sydney, you can be sure that we are the professionals for the job. So, why choose Norwest Appliance Service?
Experienced appliance repair technicians in Sydney
We offer domestic appliance repairs throughout Sydney and the surrounding suburbs. Our fully qualified technicians are fast, reliable and offer guaranteed results on the repairs that they assist you with. With over 30 years of experience under our belts, you can be sure that we will have the parts and the experience required to have your appliances up and running in no time at all.
Fast and reliable appliance service in Sydney
Time is money and we all know that the longer our appliances are out of action, the more inconvenienced we can end up being. Norwest Appliance Service offers fast response vehicles that will arrive on time to begin the repairs on your appliances.
Repair guarantee on all major appliances
Not only do we offer a repair guarantee on all major appliances that we work on, but we also offer a 12 month guarantee on the parts that we use to repair your appliance with. We know how important quality work and peace of mind is. So, with this in mind, know that Norwest Appliance Service offers that best service around.
Appliance repair we offer by-type
We offer a vast range of different domestic appliance repairs. Take a look at our comprehensive list here:
Major Appliances Brands We Service
We repair and service all major brands of appliances as well as a huge variety of the smaller brands as well. Take a look at just some of them here
We specialise in repairing all of the major brands on the Australian market as well as many of the smaller ones. Take a look at just some of those here.
How do appliance repairs work
We're proud to say that not only do we offer a guarantee on our repair work but we also offer a 12 month guarantee on the parts that we install. Get in touch with us before 12 noon and one of our qualified technicians can be at your home repairing your appliances today.*
* Subject to availability
Take our customers' word for it
Take a look at some of client testimonials to see just how fast, efficient and reliable out team is. With a 4.8/5 rating you know that you'll receive top quality service from Norwest Appliance Service.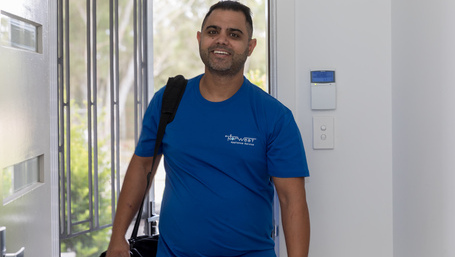 Locations we offer appliance repair in Sydney
Our fleet of rapid response vehicles service are available in key Sydney suburbs such as the Hills Shire Council area. From Parramatta to Blacktown council area, as well as Penrith in the west of Sydney, we have you covered. If you're looking for local appliance repairs Sydney, we can help.
Friendly and professional, squeezed us into the busy schedule for what turned out to be a minor fix, but taught us the tricks to using a very old oven! 10/10 would call again!
Norwest Appliance Service we're extremely responsive, able to come on site within a few hours and finished the work in the quoted time. Very friendly, would recommend
Landlord uses this service, so unable to comment on price. Was able to diagnose our broken dryer in 3 seconds, and had the part on hand to be able to repair it immediately. Friendly service, and very responsive/communicative, with regards to keeping informed as to ETA by text and arriving at the time specified. Would recommend
Phoned Karl he came to repair my oven same day service,such a lovely friendly efficient young man. Did the job no problems. Oven working beautifully. I would highly recommend him for any appliance service
Deborah Hennessy
2022-03-22
Amazing service, prompt and came quickly to repair oven when called. Pleasant to deal with and will definitely use again for all appliance repair work. 100% recommend this company.
lesley whitehurst
2022-03-21
Thanks Karl for fixing my washing machine - great service as always